Enrichment Resources to Share with Parents
1. Top Tips for Reading Enrichment at Home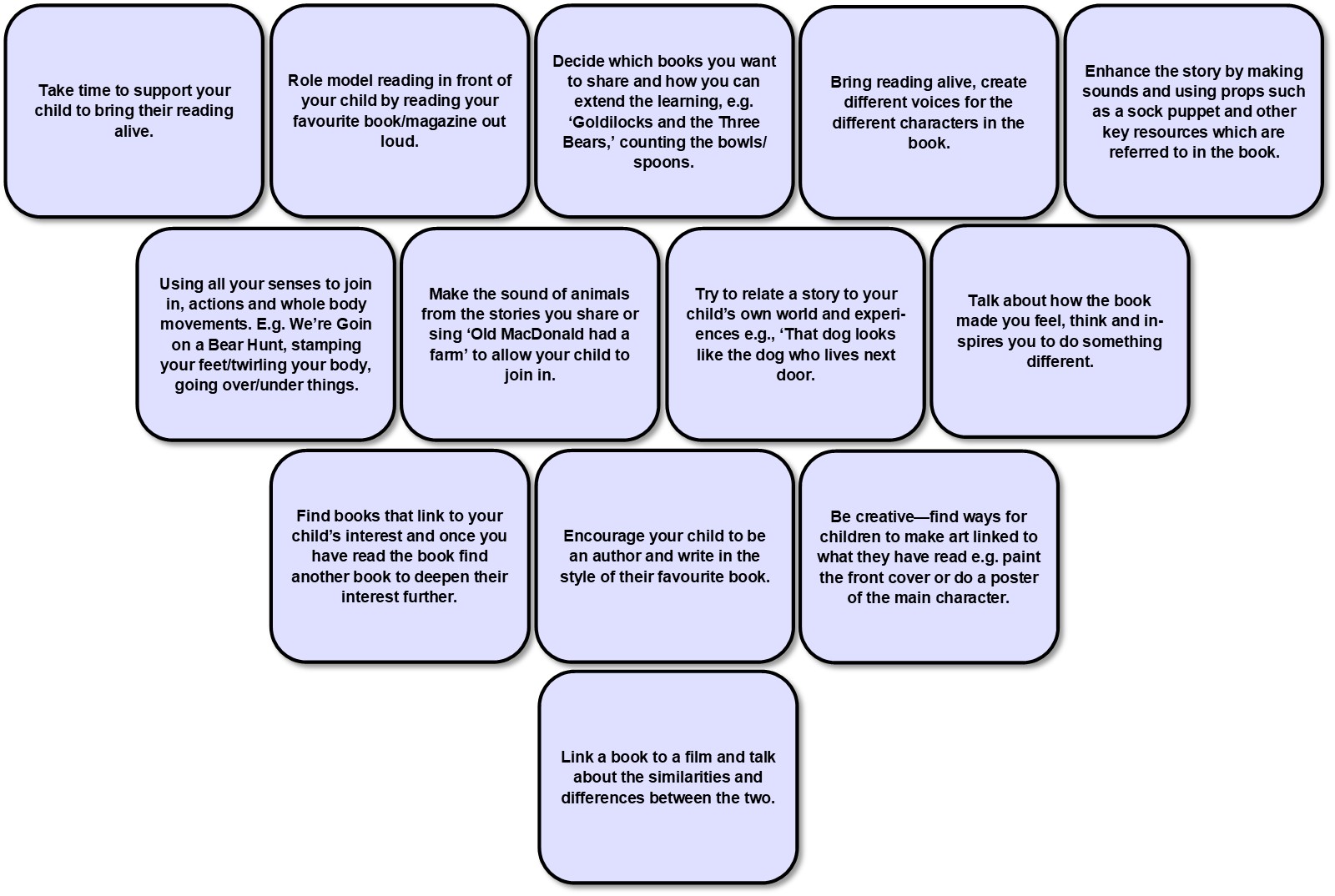 2. More Ideas
[expand title="For additional ideas to try at home CLICK HERE"]
For additional ideas to try at home click here
Book Chat: Reading with your Child – Reading for Pleasure (ourfp.org) This resource comprises three short films and support materials to help parents, families and carers read books conversationally and creatively to children. Book Chat is the informal interaction that accompanies quality reading to and with children, developing children's language and comprehension and nurturing a love of reading. The films model this relaxed interaction through the use of open questions, comments and prompts to initiate Book Chat and enable parents and children to share the pleasure of reading together
Reading Together Treasure Hunt – Reading for Pleasure (ourfp.org) practical way to support parents to further a child's reading knowledge.
Top Ten Storytimes to Enjoy (3 – 7) – Reading for Pleasure (ourfp.org) This collection of our top 10 tales, often read by the author, are suitable for 3-7-year-olds (though older children may enjoy them too). We've included the book covers so children can see and CHOOSE what they'd like.
Top Ten Storytimes to Enjoy (7 – 11) – Reading for Pleasure (ourfp.org) This collection of our top 10 tales, often read by the author, are suitable for 7–11-year-olds (though other children may enjoy them too). We've included the book covers so children can see and CHOOSE what they'd like.
Top Ten Digital Books – Reading for Pleasure (ourfp.org)
OU_RfP_Building_Reading_Communities_with_Lovemybooks_2_002.pdf (ourfp.org) Lovemybooks is a free web-based resource designed to encourage parents and children to enjoy sharing books together.
9 Ways to Get Teens Reading | Common Sense Media Find tips for parents that match the age and stage of your children like this website, which is specifically relevant for KS3 children.
Hanen Book Nook share some of their favourite children's books and talk about ways you can use them with young children to promote their emergent literacy skills. Every month, they take a fun children's book off their shelf and talk about some simple ways you can use it to build the critical foundations of learning to read and write. The Hanen Book Nook
[/expand]
3. Bolton Library- Profile raising events with books at the heart
[expand title="CLICK HERE to read more and access videos and links"]
Harry Potter World Record – for 6 months we held the record for having the most Harry Potters gathered together in the same place at the same time.  Schools, parents, children all joined in to help break the record.  Plus, every child was gifted a copy of Harry Potter to keep.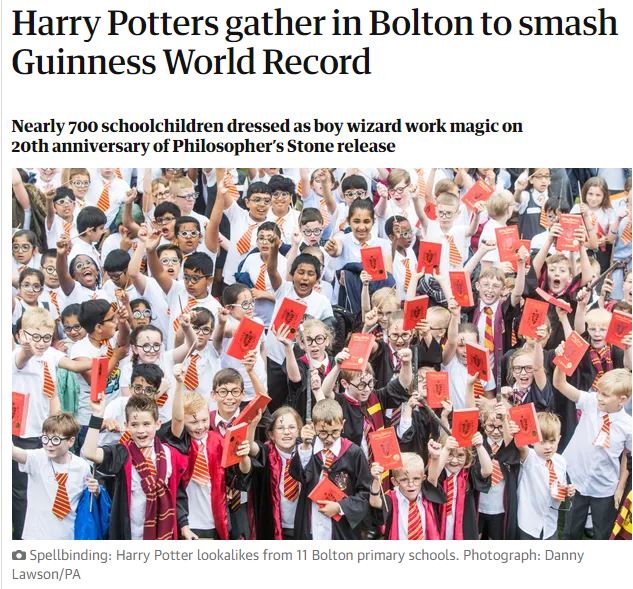 The Gruffalo Comes to Bolton – we hired the Gruffalo costume for a weekend and took him to a variety of places across the town, we read the story with families and then children got chance to have a meet and greet.  The Gruffalo even travelled from Blackrod to Bolton by bus!
The Blackrod Library Rainbow Sleepover – this was for a Rainbow pack, but we made sure the girls had a fabulous night to remember with stories right at the heart.  This brought libraries and stories back to the community and raised the profile of the library as a great place to visit with children.
The Eleventh Hour – working with a Theatre Company we brought this story of World War 1 to the Bolton Central Library Lecture Theatre – the event even included a Q and A with Horrible Histories author himself – Terry Deary.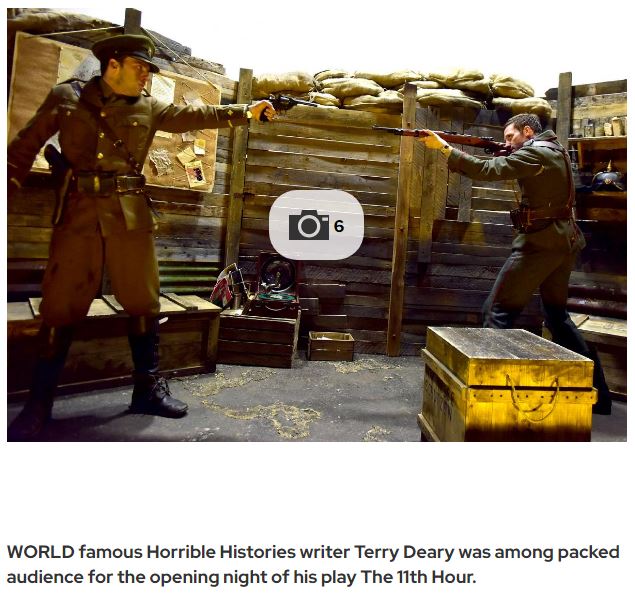 A Christmas Carol – we put on this production at Smithills Hall and made the whole thing as atmospheric as we could with staff in Victorian Costume and Mince Pies, Mulled Wine and Hot Chocolate – we showed how classic stories stand the test of time especially when you can put on a production in such a beautiful setting.
World Book Day 2022 – Comedian Adam Hills will be doing a Zoom session for all schools to promote his book Rockstar Detectives, working in conjunction with the publisher and our book supplier we have negotiated 100 copies of the book which will be gifted to children who have taken part.  These children will be specially chosen by their schools to receive a book – children who maybe otherwise couldn't afford to own a book or perhaps children with a physical disability who would benefit from seeing a disabled character portrayed really positively in a book.
Bedtime Stories – this year for the public we are bringing back our popular bedtime stories event at Central Library during the evening of World Book Day – there will be milk and cookies, our staff reading stories in their pjs and regular appearances from our "Bedtime Bear" (bear mascot in pjs).
Pirates in Pyjamas – joint storytelling session with The Octagon Theatre for families which took place in our Stories Exhibition – we used a story and movement to create a fun morning.
Pirate Summer – we themed our temporary exhibition space to all things Pirate and every day during the Summer School holidays, families joined us at Pirate School where we used songs and stories to engage children and to teach them all to become great Pirates.  These were really popular family sessions and were very well attended.
Haunted Halloween Tours at Smithills Hall – family tours with the stories of the Hall at the heart, showing how stories can be used to create a really fun evening without lots of special effects or gimmicks.
Holiday Activity Fund Summer 2021 – to engage teenagers in storytelling we tried a different technique, we took a group to Smithills Hall – gave them a scary haunted tour and then asked them to make their own film in 3 days – this was the result:
this technique really worked and engaged the group in the process of storytelling, storyboarding and film making. We retained our numbers and kept teens interested which was no mean feat!
Regular Events
Toddler Tales – all our libraries host weekly Toddler Tales events where parents are invited to bring along their pre-schoolers for songs, stories, rhymes and crafts.
Super Saturdays at Central Library – every week we try to include a Storytime for families as well as craft activities.
Summer Reading Challenge – every year we offer the Summer Reading Challenge at libraries across Bolton – children are invited to read 6 books from their local library over the summer.  Once they have done this, they receive a medal and certificate and go into a lucky draw to be invited with their families to the SRC Presentation morning which takes place in October.  The lucky draw winners all receive a book token, and one main prize winner usually wins a tablet.  The mayor also attends, and we always have a guest act – this is usually an author, storyteller or poet who does a show for the families prior to the children receiving their prizes.  This is always a highlight of the Library Calendar.
Online
For Children's Mental Health Week in February 2021, we recorded and shared the story of the Truth Pixie for schools. (https://youtu.be/Vutcu9MJbkQ)
For Empathy Day in 2021 we recorded and shared the story of Tibble and Grandpa – this was shared both to schools and for the public (https://youtu.be/QiS1lWdl5Lw)
During lockdown we held weekly live story times on Facebook for families to join in with.
We interviewed Children's Laureate Cressida Cowell for schools to join in with (Interview with Cressida Cowell – YouTube)
We have done huge Zoom events with high profile authors like Andy Cope (Doctor of Happiness) and Michael Rosen – these were for schools but could easily be replicated for the pub.
[/expand]
4. National resources
[expand title="CLICK HERE to see more top tips, videos and case studies"]
Greater Manchester (GM) 10 Tips for Talking
The Greater Manchester (GM) 10 Tips for Talking are ten key messages to support the development of language and communication skills for babies and young children and can be used by everyone. Each tip is designed to give families and anyone working with children some small suggestions that can make a big difference and help give children the best start. Each message is based on sound research and is delivered by children.
The Ten Tips for Talking are part of Greater Manchester's school readiness work, which is funded by the Greater Manchester Health and Social Care Partnership. The ambitious programme aims to improve outcomes for young children and their families, and ensure every child achieves their potential.
Tip 5: I love it when we play, sing and look at books together.
We can play with anything it doesn't have to be toys. We can make funny faces together or play with a cardboard box.
Follow my lead when I am playing. This lets me use me
Talk to me about what I am doing rather than asking questions. I will talk more when you do this.
Sharing stories together helps me to learn new words and ideas. I love it when we talk about the story as we turn the pages. Let me see the pictures too. Tip 5 – Greater Manchester Combined Authority (greatermanchester-ca.gov.uk)
[/expand]